Middle Tennessee Plumber
Prompt & Professional Plumbing Services in the Nashville Metro Area
Are your faucets leaking? Are you renovating and need to re-route existing plumbing or add new piping? Do you need to repair faulty plumbing equipment? Griffin Mechanical can help with all these problems and more! We also offer replacement and installation services to upgrade your equipment, improve the efficiency of your plumbing systems, and help you achieve the bathroom or kitchen of your dreams.
Griffin Mechanical can help you with:
Piping
Leak detection
Gas lines
Water lines
Sump pumps
Radiators
Water and sewer systems
Drains
Bathroom and kitchen plumbing fixtures
Whatever you need help with, Griffin Mechanical has got you covered. With up-front pricing, licensed and insured technicians, and nearly 20 years of experience, we are the right company for the job.
Repairs for Any Plumbing Fixture
Clogged drains, malfunctioning showers and toilets, burst pipes, and leaking gas lines are frustrating realities that unfortunately come with home ownership. Luckily, the trained experts at Griffin Mechanical can handle these stressful messes for you and leave your home safer and more comfortable than before.
Our Middle Tennessee plumbers can detect and repair damaged plumbing fixtures and resolve any water, gas, sewer, or waste piping issues you may have using the latest technology and our extensive experience in the industry. You're a phone call away from fixing any and all of your plumbing problems.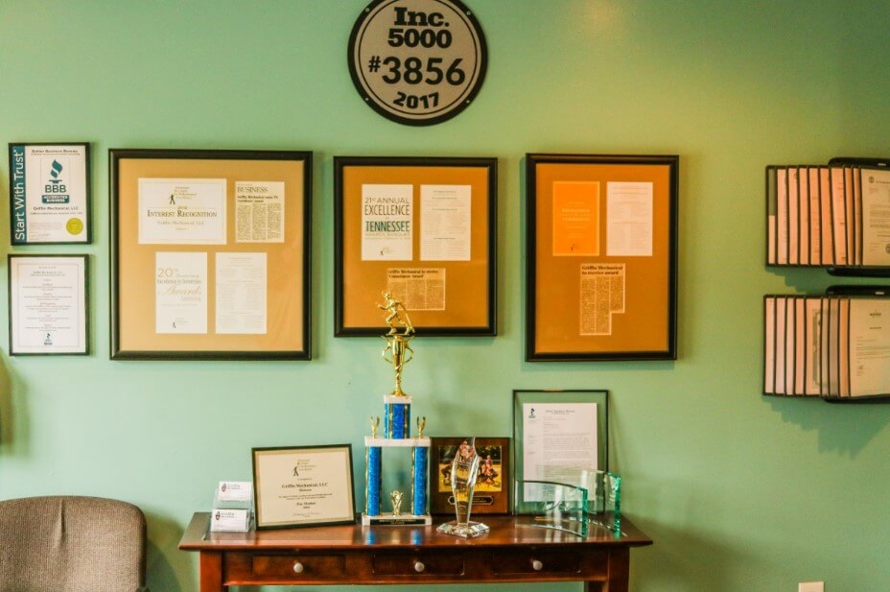 Quality Installations
Are you looking to hire an experienced plumber in Middle Tennessee? Next time you're replacing plumbing appliances or remodeling your home, leave the DIY guesswork to us. From clawfoot tubs to utility-style sinks, our Middle Teneessee & Dickson County plumbing team can install any kitchen or bathroom appliances. As always, we're happy to do the heavy lifting and get your fixtures working in no time.
We have extensive experience handling countless different makes and models of various plumbing appliances, so we can provide a reliable recommendation and ensure that your new equipment will meet your needs. For all installations, we offer free estimates with no commitment, so you can be confident when choosing our plumbers in Middle Tennessee.
Contact us online or give us a call at (615) 502-3030 today if you need help with you plumbing in Middle Tennessee, Nashville, and surrounding areas. We look forward to serving you!