Middle Tennessee Air Conditioning Services
The Trusted Name in the Nashville Metropolitan Area
During a hot and humid Tennessee summer, an air conditioner is a necessity. If your home or business is suffering from an insufficient or completely broken AC system, your comfort and safety are at stake. Don't go a second longer without a flawless and efficient air conditioner – contact Griffin Mechanical to restore and improve your cooling system.
By providing repairs, installations, and general maintenance services, our licensed and insured technicians can help you keep your cool. Striving to be Middle Tennessee's leading HVAC service provider, Our Middle Tennessee repair & installation team performs quality work while maintaining outstanding customer service. We believe that every customer deserves to be respected, so we treat your property as our own and go above and beyond to meet your needs and exceed expectations.
Turn to Griffin Mechanical for any of the following AC services:
Call Griffin Mechanical at

(615) 502-3030

or complete an online form today to schedule an appointment for professional AC service
Call now!
Putting Our Experience to Work for You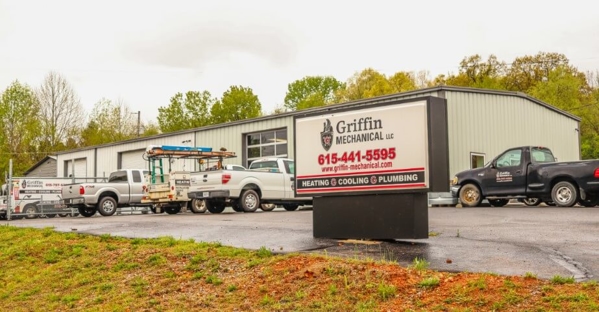 With nearly 20 years of experience, we are one of the region's leading heating and cooling companies. Our skilled Middle Tennessee heating and air conditioning technicians are knowledgeable experts in the industry and have handled all sorts of AC repairs in Middle Tennessee, Nashville Metro Area, and surrounding areas.
Our team of Middle Tennessee AC repair & installation technicians inspect your system and diagnose problems with:
Fans
Filters
Compressors
Evaporator and condenser coils
Refrigerant
We also service heat pumps, so regardless of what kind of cooling system you have, we can provide a fast and effective solution when something goes wrong. Our repairs are completed at an affordable price with a one-year warranty.
If your AC unit is beyond repair, allow us to replace it. We perform AC installation in Middle Tennessee with ease and precision. Our Middle Tennessee heating and air conditioning technicians will assess your property and recommend the best cooling system for your unique space, taking your needs and budget into consideration.
As a Better Business Bureau accredited business and the only mechanical construction and service company awarded for quality in Tennessee, Griffin Mechanical has developed a reputation for quality and value. We strive to maintain our track record of success and pursue best practice processes in all functions of our business.
Give us a call at (615) 502-3030 or use our online form to learn more about our quality AC services in Middle Tennessee, Nashville & beyond.